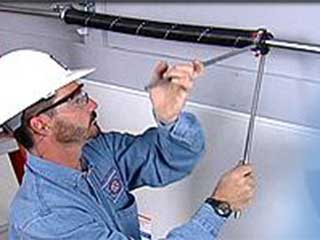 Nothing lasts a long time without proper attention and care. After you've installed a garage door, we recommend you carry out a number of maintenance tasks to ensure it stays in use for a long time. After all, a well looked after garage door will help to keep your car and the gateway to your home secure – it's worth looking after!
Lubricate the Necessary Parts
To maintain the garage door on your own, you first have to make sure that the various parts are well lubricated. Proper lubrication will reduce wear and tear over time and help to limit the amount of noise the door generates when in use. Just remember to check the best lubricant to use with your system – in general silicone spray and lithium grease can be good options.
Tighten the Loose Bolts and Nuts
It's worth checking now and again that no bolts are very loose. If you find some that are, tighten them up. This is especially important if you have an older manual garage door that has a lot of bolts joining the parts.
Check for Worn Garage Door Springs
Garage door springs are very important to the system as a whole; essentially they enable the opening and closing function to happen. We recommend inspecting your springs regularly for wear and tear so you catch any problematic issues early on. Snapped springs can be very dangerous and also more costly to replace once they've already broken so it's always best to prevent this from happening in the first place.
Know When to Call the Experts
Whilst it's possible for you to undertake some maintenance tasks yourself, it is important to know when to call the experts. If your opener is playing up or if you notice your springs are considerably worn, you should call an expert in to handle these things. Ultimately the professionals know what to look for and will do all they can to prevent small problems from evolving into larger ones. Trying to fix these things alone without proper training could mean you spend more money later on – you also don't want to risk injuring yourself. Our experts at Garage Door Repair Beverly Hill are on hand to help you out when you need them.