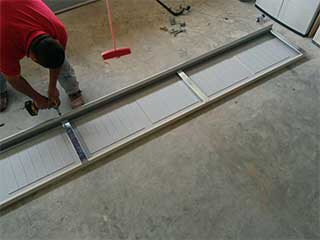 Over time, parts of your automated garage door will become damaged either due to rusting, wear or even breakage. If any of these happens, we have the solution. Our team offers professional repair and replacement services geared toward restoring your door back to normal and optimum functioning in no time.
Worn Out Opener
When you arrive home, most expect to push the 'open' button and see their door open immediately, right? It is rarely expected that the opener simply fails to function. Unsurprisingly, as many openers last for a long time, you may even forget that it's there, making much of your door system's operation possible. However, as is the nature of these electro-mechanical components, it will wear out at some point when it reaches the end of its lifespan. When it does, don't take the risk of causing further damage with all the wires involved in the repairing process - our skilled experts will handle it for you in the safest manner possible.
Broken or Tired Rollers
Rollers are responsible for the smooth operation of the door. Sometimes they can be a nuisance, causing a squeaky noise each time you open the door. This happens when they wear out and begin to wobble, jumping off track from time to time. If you're experiencing this along with broken roller wheels, our team has you covered.
Trouble with Damaged Panels?
Metal doors are highly likely to suffer dent-ins over time. Since the panel represents part of your home's exterior, you should do something about it. Dents that are minor can easily be repaired by straightening them out - it may not be necessary to replace the whole thing. If it's beyond repair though, replacement of the dented panel can be more straightforward than you would expect. We can take care of both the repair and replacement of your panels.
We are a Phone Call Away
Our experts at Garage Door Repair Beverly Hills are determined to provide you with the very best service for your door. Feel free to contact our team - we are just a phone call away.
We Also Offer:
Garage Door Off Track Repair
Garage Door Tune Up Services
Chamberlain & Craftsman Garage Door Openers
Galvanized Torsion Springs