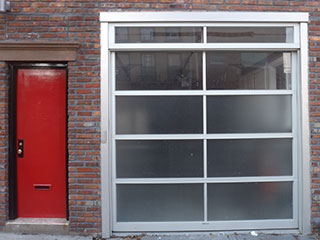 It is a fact that garage door problems are fairly common due to the natural process of wear and tear and the effects of the elements. At Garage Door Repair Beverly Hills, we can handle all common and unusual issues with your door without exception. We are experts in our field and offer top quality services at great rates. We also take pride in achieving the highest level of customer satisfaction with our work.
No Problem Is Too Big for Us
In our years of experience, we have witnessed all kinds of issues. The most common are worn out garage door rollers, fasteners and hinges. They require timely replacement whenever they start malfunctioning and producing weird noises. Whenever you hear a strange noise coming from the opener, we will be there to fix it.
The Way We Work
Out team will arrive at your place as quickly as possible, provide a full inspection of your door and carry out the required work. We use materials and tools of the highest quality and are experts in the garage door repair field. You can rest assured that you will be in good hands.
Spring Replacement Services
Your garage door springs are usually made to last, but they work hard and over time may go out of balance, become dirty or get worn out or damaged. In all of these cases, our experts in California can help. We provide spring inspection, cleaning and lubrication, balancing and replacement services. Our team will ensure the safe and reliable operation of the spring system at all times.
Time for a Replacement?
If your door has become outdated or completely useless and unsafe, it is time for its replacement. Our professional door replacement service is comprehensive. We can replace the panels, opener system and the door itself.
The Right Door for You
If you are in need of a replacement door, we can help choose the right material and look for you. We'll help you ensure your choice affects the curb-appeal of your home in the right way and contributes positively to your overall security and insulation status. There are many factors to consider. For example, wood can be very attractive to look at but may require more maintenance over time, steel is very durable and can add a lot in terms of security but again may require maintenance.
If you have even the slightest concern about your garage door, get in touch and we will help you resolve the problem in a timely, effective and cost-efficient manner.
Contact your Local Experts Today:
Installation & Repair Services
Great Satisfaction Guaranteed
Hardworking & Skilled Technicians