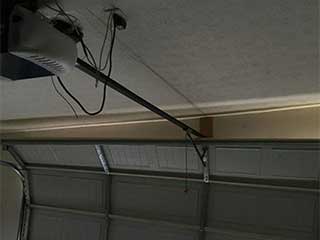 There are several issues that can prevent your garage door from opening and closing properly. Here we list four common reasons, and some steps that you can take to check and possibly resolve these issues yourself. If you are not comfortable checking or fixing these issues, call a garage door repair specialist for assistance. Remember, there is never any circumstance where you should risk your own safety or somebody else's. If in doubt, contact the professionals!
The Photo Eye is Blocked

Most modern garage door openers have a photo eye which detects if an object is blocking the door. These sensors will be near the floor on both sides of the door. The photo eye shines a laser from side to side of the door opening. If this laser is blocked by any object, the automatic opener will not operate. Check to see that nothing is blocking the path, including dust or dirt that may have accumulated on the photo eye itself. You can also verify that the cord attached to the sensor is not cut or damaged.

The Opener Motor is Not Getting Power

Sometimes people will unplug their opener for some reason, and then forget to plug it back in. Make sure that it is actually plugged in. Power outlets can also go bad, so make sure that the power is working at the outlet. You should also verify that the circuit breaker has not tripped for some reason.

The Garage Door Springs are Broken

Garage door springs are powerful to counter the weight of the door. If a spring breaks, the door is too heavy to open. Working on the springs without proper training and tools can cause serious injury; this task should always be left to trained professionals.

The Remote Control is Not Working

It could be as simple as changing the batteries in the remote. Check the antenna wire on the opener to make sure that it is still attached and is not damaged or blocked. In other cases, the remote may need to be reprogrammed to work with the opener. Occasionally the receiver board in the opener will go bad and need to be replaced.